My apologies to a band I never appreciated when I should have.
This week: R.E.M.
Ya know, you grow up with them - they're just kinda all around and you take them for granted. And then, when you get older, and modern music starts to suck a lot more, you miss what you once took for granted and give them some credit for what apparently was a pretty difficult feat.
After 20 years, R.E.M. is still hard at work making good new music, but only in my mid-20's did I really start to pay attention. Here's a little homage to a band that, although they may never be as great as they were, still don't suck.
Let's consider the greats: "Losing My Religion", "Stand" and "What's The Frequency, Kenneth?"
How about: "It's The End Of The World As We Know It (And I Feel Fine)" or "The One I Love"? And maybe my favorite, "Radio Song"!
Even after they made a great guest spot on
The Simpsons
in 2001, I still didn't really give them their due credit.
But looking back, I miss Michael Stipe as "Captain Scrummy" on Nickelodeon's short-lived
The Adventures of Pete and Pete
(possibly the best show that channel ever produced, but
Salute Your Shorts
is up there).
And I miss seeing their horrifically lame, yet warm-and-fuzzy, happy-g0-lucky video for "Shiny Happy People" - remember? With the B-52s! And the old dude pedaling a stationary bike to make the background rotate?? Who the hell needs THIS crappy decade when we had the early 90s!?!?!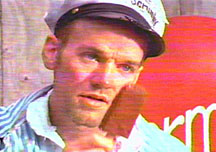 Hell, they were good enough for 'Weird Al' to parody... in a POLKA, no less! Not to mention 3 Grammys, endless nominations, 6 Rolling Stone covers, and over 70 million records sold! They've been doing something right all along.
And now, they're putting out some new stuff. I just downloaded (legally, from good ol' iTunes!) their new single, "Supernatural Superserious" - from their forthcoming (thirteenth?) studio album
Accelerate
- and it's ain't half bad!
I just wish you apologize to Mike and the boys for my negligence. I should have been a conscious fan all along, but now I will be. Sorry for the delay. I've got my Orange Crush.