COLDPLAY -
Viva la Vida or Death And All His Friends
I'm not a huge Coldplay fan, so this is the first full album of theirs I've ever listened to.  So, I'll give it my best shot.

Viva La Vida or Death And All His Friends
is Coldplay's fourth album in 8 years, and their first collaboration with famed U2 producer, and the father of modern "ambient music," Brian Eno.  Thus, this album delves into some atmospheric ambiance at times, to be sure.
The album opens with an instrumental track - "Life In Technicolor", which sets the scene for the entire album: fresh, upbeat, incandescent, optimistic and brimming with a tone that could best be described as "new life".  Perhaps thats exactly what Coldplay is experiencing with this new sound.
Eno gave an artistic flare to a young U2 with albums like
The Unforgettable Fire

 
(1984) and
The Joshua Tree
 (1987), and eventually again on
Achtung Baby
(1991) and (most noticeably) 
Zooropa
 (1993), all of which utilized the natural talents and instincts of the band itself against a background of Eno's transcendent atmosphere.  He seems to do the exact same thing here with Coldplay, as evidenced with tracks like "Lost!" and "Violet Hill".  
Much of the album is sleepy and dull, as well - like with "Cemetaries of London", "42" or "Strawberry Swing".  But, just as was the case with U2's

Zooropa

, these are the tracks that tend to grow on you after the shadow of their bigger brothers on the album - hits like "Viva La Vida" - have worn away.  As subtle as they may seem upon the initial listen, they become so much more powerful as you "get to know" the record.
Viva La Vida
isn't, however, going to score the kind of radio hits that U2 enjoyed from Eno's work.  The aforementioned title track is already committing commercial suicide by being horrendously overplayed in the most recent Apple iPod commercial, and "Violet Hill" just isn't good enough to be timeless.  If anything on this album could get some more attention, it's "Lost!", which features a hip and ultra-modern beat (complete with hand-claps), as well as a dense saturation of what sounds like a huge church organ, and a very catchy chorus and verse.   I also love the gentle simplicity of the guitar-riff in the chorus.
Chris Martin's voice is as good as ever, but the boring, dreary little piano tinkling sounds are put into such a more diverse space by Eno's production.
I wouldn't say this is a brilliant album, but its competent and very listenable.  It actually does remind me of the feel both U2 albums
The Unforgettable Fire
and
Zooropa
.  The brazen and unapologetic venture into this world of ambience combined with pop music has succeeded again in Coldplay's
Viva La Vida
.
-----------------------------------------------------------------------------------------------------------
JUDAS PRIEST -
Nostradamus
This is certainly not The Priest's breakthrough new album.  Then again, I'm not a huge J.P. fan, but I knows what I likes and I can't say I'm too impressed with this one.
It's 23 tracks long (or in terms of tangible recordings - like CDs or Vinyl - a "Double Album"), and for the life of me, I can't seem to find a track that's very catchy or interesting.  "Prophecy" is about as good as it gets, although it seems that the similarly-themed title track is the one all the kids on iTunes are grabbing up.
"Conquest" has some personality, and "Revelations" is not without it's metal charm, but all the single-word titles with religious overtones kind of makes it hard to distinguish and identify a good song's personality upon first glance.
Basically, this whole album seems like a big glob of of elementary metal music and some generally bland vocal arrangements.  As great as it is to have him back in the band again, Rob 
Halford - who does screech with his trademark wail here and there - seems to be kind of phoning it in on this one. And although there are a few very peppy guitar solos, they're nothing to go ga-ga over.  These guys are just playing the same old game.  

I get that this is a concept album (so it's basically reflecting the eerie, dark and destructive overtones of the prophecies of history's most-famous prognosticator, Michel de Nostredame), but, as far as the music goes, whatever happened 

to "Living After Midnight" and "rockin' 'til the dawn"?  Why aren't they ever "Breaking The Law" anymore?  Whatever these guys are screaming for these days, it ain't "Vengeance".  And I can't even remember the last time that 

I

 had "another thing comin'"! 
There was a time when this was less of a goth-rock band and more of a Hard-rocking Heavy Metal group, who's music was heavy and dark, but still full of life and fraught with flare.  It seems that the resurrected Priest is catering far more to the kids shopping at Hot Topic and wondering if there's something wrong with them because they don't feel the urge to cut themselves like all their friends do.  I even enjoyed 2005's
Angel of Retribution
more than this one.
I may need to take more time to get to know this 100-minute-plus monstrosity, but nothing's jumping out at me as of yet.  At this point, I wish these guys would take a page from their 80's playbook and remember the power of just good old fashioned straight-ahead heavy metal without all the constant doom and gloom.  It gets old pretty fast.
------------------------------------------------------------------------------------------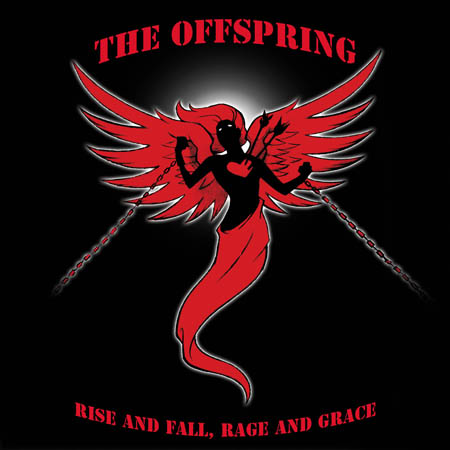 THE OFFSPRING -
Rise and Fall, Rage and Grace
I don't know much about these guys - just what I remember from high school and the radio and such - but I gotta say, this is a powerful new album!  And right off the bat, I'm recommending it for anyone who ever liked the band's initial sound.
The way I see it, these guys started out with a real desire to be a really good, hard-rock/punk band.  They put out their third album -
Smash
- in 1994, and it was their first big breakthorugh to the mainstream. They were quickly welcomed with open arms onto rock radio and the last dwindling years of Music Television.  Hits like "Self-Esteem", "Come Out And Play" and "Gotta Get Away" solidified the band quickly as more than a flash in the pan.
But since then, their ceaselessly hard-punk sound has been obscured by hits like the oh-bla-dee-oh-blah-dah-esque-"Why Don't You get A Job?" or 'Weird Al' fodder like "Pretty Fly (For a White Guy)" - or just plain old bad songs like "Original Prankster" or "Hit That".  They still managed to rock with tracks like "The Kids Aren't Alright", "Gone Away" and "(Can't Get My) Head Around You", but even those didn't feel like the band we'd been introduced to with
Smash
.
Well, that all comes to an end with this 'back to basics' new release -
Rise and Fall, Rage and Grace
; arguably the hardest punch these guys have ever packed.
You won't find any songs on this album that are out to make you giggle or even think too hard - there's just a lot of good, hard-rocking, punkish music and almost every song is really catchy.
The album opens strong with rock anthem "Half-Truism", heralding the re-alignment and return of the old Offspring spirit.  They quickly dive into the hard and fast stuff with tracks like "Trust In You" and the first single, "Hammerhead".  "You're Gonna Go Far, Kid" is among these, but with a more sing-songy verse and chorus, with a careful use of harmony vocals and an unexpected force of the pre-chorus, "Dance, fucker! Dance!"-part, keeping the pulse pounding.  "Takes Me Nowhere" rocks, and so does the title track "Rise and Fall", even if it's a pretty blatent Green Day impersonation.  (Seriously, it sounds a LOT like "American Idiot").
The pacing of this album is perfect, as things slow down a bit with tracks like "A Lot Like Me" and radio-friendly "Kristy, Are You Doing Okay?" peppered in at all the right places.  "Fix You" is the only sorta "love song" kind of thing going on here, but even that one is well-done and feels right in place here.  Very catchy.
The Offspring have definitely rediscovered their signature sound.