WEEZER - '
Red Album
'

With '
The Red Album
', nineties alt-rockers - Weezer - give us their sixth album in 14 years, following 2005's mostly-superficial, but still somewhat enjoyable,
Make Believe
album.
Like the other self-titled Weezer albums ("
Blue"
and "
Green"
), this "Red" album is great - just great.  Not 'Album Of The Year' material, perhaps, but in the catalogue of Weezer albums, it's pretty damned good.  Opening tracks "
Troublemaker"
 and "
The Greatest Man That Ever Lived (Variations on a Shaker Hymn)"
 are a couple of brazenly bravado-laden self-aggrandizing rockers.  The albums first single, "
Pork And Beans"
, is a highly definitive Weezer hit, whose chorus is quite reminiscent of 1994's "
Buddy Holly"
.  Be sure to check out their well-crafted ode-to-YouTube-style video for the song 
HERE
.
My favorite track is definitely the mid-tempo, mostly-acoustic, harmony-heavy 
Heart Songs
, in which singer Rivers Cuomo takes a musical trip down memory lane siting a stream-of-consciousness list of the past songs and artists that made him fall in love with the musical arts, (with everyone from Gordon Lightfoot to Debbie Gibson - who is erroneously sited in this song as the singer of "I Think We're Alone Now" - but, we all know that was Tiffany)  and eventually, start a band of his own.  With three simple chords and a brilliant progression, the song never seems to seek to compare Cuomo's own talents with those of his musical elders, but only to pay homage to the musical landscape of his youth.  Brilliant!  (I smell a future hit single!)
"Everybody Get Dangerou
s" is an aggressive, edgy and loud nerd-rocker that reminisces about destructive teenage hi-jinx, and then projects into a potential future, where the singer is now responsible for his own kids doing the same thing.  But in the end.... screw it!  "Get dangerous!"
The album gets pretty mellow for a while after that, with mid-tempo grooves that just seem to cruise the album along to its ultimate conclusion of the powerful and almost epic rocker: "Automatic", and the album's closer: "
The Angel And The One"
- a longer, escalating, dramatic tune that finds Cuomo in harmonies, crooning and crying, "We are the angels and we are the ones that are praying."  Pretty epic.
There seems to be a big theme in the first part of the album of a rugged demand for individuality and an assertion of self-acceptance, or rather, "I don't give a fuck about what you think."  But that theme is deserted before it can grow stale and the album explores other subject matter in a healthy progression.
---------------------------------------------------------------------------------------------------------------

Okay, even though it's true, it's a bit misleading.  Formed in 1970 Mudcrutch (formerly The Epics, formerly The Sundowners) is the band to which Tom Petty (as well as guitarist Mike Campbell, and keyboardist Benmont Tench) belonged before forming The Heartbreakers.  They served as the house band at Dub's Diner in their hometown of Gainesville, Florida until they signed a record deal in '74 and relocated to Los Angeles.  
They never did release an album in those days, and the band's only single - "Depot Street" - failed to chart.  But things all changed when they started The Heartbreakers two years later.  In 1995, Tom Petty and The Heartbreakers released the

Playback

box set, which contained a handful of rare Mudcrutch tracks, including the original, stripped-down version of  "Don't Do Me Like That"
.
In the 70's, Mudcrutch was quite simply a prelude to the familiar sounds of the Heartbreakers, But on this recent, eponymous 'debut' album, they take on a much stronger grassroots and "old school jam-band" persona, which one iTunes commenter compared to "an old-fashioned Barn Dance!"  As off-putting as that may sound to some, it's not far off... but in a good way.
The album opens strong with with the bluesy, cajon-style acoustic, harmony-driven "Shady Grove" - whose chorus will get stuck in your head - and the band's first single in 32 years, "Scare Easy", which was obviously chosen for its more contemporary style.  Hell, it even sounds like a classic Heartbreakers-style groove.  (If you've been missing the old Petty sound, you'll find it on this one.)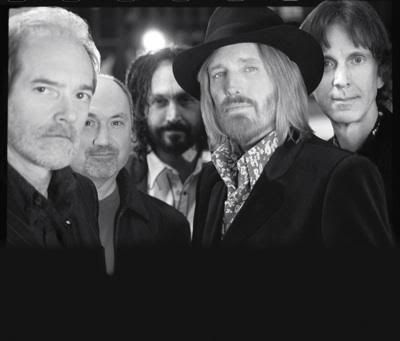 "Six Days On The Road"
is a country-friend rock-a-billy tune, in the style of "Route 66", but with Petty's distinctive vocals, making him sound as young as ever, even in his late 50's.  And "
Crystal River"
, like it's name suggests, is a long, flowing, moody jam that stands out with it's 6-minute-plus instrumental jam in them middle of the almost-10-minute track.  Very cool!  There ain't enough of this in rock n' roll, anymore.
"The Wrong Thing To Do"
might as well be a Heartbreakers B-side from the late '70s, while "
Lover Of The Bayou"
,
a very cool minor-key rocker - from the '90s.
The remainder of the album is a bit rock-a-billy or even country for my taste, but if that's your kinda thing, you're going to love this album.  It's all that style with the timeless combination of Campbell's jangling guitars and Petty's vocals.  Who could ask for more?  I haven't enjoyed anything Petty has done this much since
Wildflowers
- 1995!
-------------------------------------------------------------------------
I don't know much about this group.  I know they are The Neptunes, headed by Producer-wunderkind Pharrell Williams, and this is their funk-rock-hip-hop-alt-soul-blues outlet.  I know this is their 3rd release as N*E*R*D in 7 years, and that it's been 5 years since their last release,
Fly Or Die
(2003)
.
I also know that I loved that album and was excited to see that they'd finally made a new album, but was pretty saddened by the weird-as-hell first single, "Everyone Nose (All the Girls Standing In The Line For The Bathroom)" performed live on Late Night with Conan O'Brien.  It turns out a handful of the opening songs on this album follow suit with some of the most dull and boring noise-making tracks I've ever heard, as it seems Pharell is in full "experimental mode", on tracks like "Time For Some Action", "Anti Matter" and "Spaz" - I can't say I really enjoy these tracks much at all.
After this mess is put aside, the album jumps to life with some amazing songs.  "Yeah You" (about a clueless, obsessive stalker-type girlfriend-that-never-even-was) has an old school jazz loop kinda thing going on and is irresistible when the choral harmonies kick in in the chorus, and features the classic N*E*R*D sound.
"Sooner or Later" is a 6-minute, 43-second epic on this album, driven by smooth vocals, a powerful piano hook and some brilliant production of the entire orchestration.  After about 2 and a half minutes of this song, you're not listening to it - it has taken you over completely.
"Happy" is a very optimistic and celebratory, almost Lenny-Kravitz-esque mid-tempo tech-rocker.  It's atmospheric progression soars.  "Kill Joy" is a funky rocker that would make the Red Hot Chili Peppers proud and "Love Bomb" is a hippie love-fest ("We gotta make it right now - fuck what the Government say!") with nostalgic strings and Mariachi horns filling any empty space.  "You Know What" has a very fun, very dance-able '70s disco-funk flare (you can
see
the disco-ball swirling).  And the final track, "Laugh About It", is a little complicated but still good.

This album is totally worth checking out, even if it's only for the latter half.