Hey peoples,

It's been a while since my last "RNRHS" post, but I think this is a pretty good one - Remember these guys?

THE GUESS WHO




I first discovered this band as a teenager, whilst rocking out the the best Classic Rock radio station the San Francisco Bay Area has ever known: 97.3 KRQR - THE ROCKER! I miss that station. In two short years, from 1993 to 1995, they taught me much of what I know about music. At the very least, they got the ball rolling on my complete obsession with rock music. From "Two-fer Tuesdays" and "Three-fer Madness" Weekends (a pun that didn't make sense to me for many
years), to free tickets to a Stevie Nicks concert at the Shoreline Amphitheater in Mountain View, CA in 1994 that would serve to pop my conce
rt-going cherry... they were the best. "107.7: The Bone" later tried to live up, but... the just couldn't.

Anyway, I learned about all kinds of classic rock, but it was the early stuff - from the 1960s - that had the most magical air about it. It was more historical and seemed like it came from another planet, and not just another era. From The Beatles and Zeppelin to The Stones and Hendrix, the rock of the 1960s was epic but distant - fascinating to a young mind the way a dinosaur is. (Hence, the term "Dinosaur Rock", I suppose... but that doesn't seem nice.)


And one of those bands that never could compete against the grandiosity of the aforementioned mega-bands was "The Guess Who?" - a Canadian rock group whose peak was hit between the years of 1968 and 1970. After some early line-up changes, an arguably "classic" and hit-making line-up consisted of Burton Cummings (keyboardist/lead vocalist), Randy Bachman (guitars), Jim Kale (bass), and Gary Peterson (drums). In 1969, the band found new success with the release of their first Top 10 US hit single, "These Eyes" - a classy, '60s-style jazzy/bluesy love ballad - from the previous year's album,
Wheatfield Soul
. It's a total classic.

You might remember this song from it's recent resurgence in the hit comedy film,
Superbad
(2007). Here's a clip of Michael Cera being forced to perform the song a capella: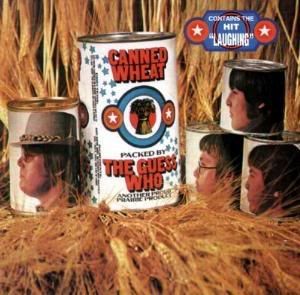 That year saw the release of a new album from The Guess Who (who by now had dropped the "question mark" from their band name because, I will speculate, the phrase "guess who" is usually not a question at all, but a command). The new album,
Canned Wheat
(1969), spawned several new hits: "No Time", a gritty rocker with an audible influence by The Byrds, "Laughing", a happy-go-lucky chorus in a sad, heart-broken croon of a ditty, and "Undun", a heavily jazz-guitar-infused mid-tempo dance tune which has a psychedelic drug-hazed theme about a girl who's "lost the sun".

One theory suggests that the song is referring to the untimely demise of TV-icon Art Linkletter's daughter who, in the late 1960s, dropped acid, "found a mountain that was far too high" (which was actually a high-rise) and, believing she could fly, leaped to her death. This was a news item about six months before the appearance of the song, but this has not been revealed as the true meaning of the song. I love the break-down in the middle of the song - it's brooding and eerie with some deep lyrics:

Too many mountains and not enough stairs to climb
Too many churches and not enough truth
Too many people and not enough eyes to see
Too many lives to lead and not enough time...
Then, the next year, The Guess Who topped out with their greatest success to date -
American Woman
(1970). The album boasted one of the greatest rock anthems in music history - a lust-filled and very-patriotic tune from a bunch of Canadians - the title track, "American Woman". Everyone knows this song, and more recently because of rocker Lenny Kravitz's cover of the song for the Mike Myers film,
Goldmember
(2002), the music video for which saw Lenny rocking out in front of a giant electronic American flag while a scantly-clad, hot-and-bothered little vixen in the shape of a young Heather Graham crawls and writhes around on the top of a tour bus, wind whipping her wild blonde hair all around in a frenzy of rock-laden sexuality. All this from a 32-year old song from a bunch of Canucks.




The album also saw the release of an updated version of the single "No Time" - the one we're most familiar with today, and my absolute favorite song by The Guess Who: "No Sugar Tonight/New Mother Nature".


This nearly-5-minute early mainstream progressive rock track has a more ebbing and flowing pulse of absolutely electric energy than the album's hit title track, and Cummings' vocals are completely unique, coolly subtle at times and nearly perfect. And here's the coolest part of this song: The first 2 minutes are the "No Sugar Tonight" part, then at 2:30 the keyboards come in and create a whole new song, which could be viewed as an extended bridge or break-down, separately titled "New Mother Nature", and then the two songs converge and both parts are sung together in perfect harmony before busting back into the choruses of each part. Check it out. I love it!

After this album, guitarist Randy Bachman left the band (and eventually enjoyed great success with his new band, Bachman-Turner Overdrive) and they continued on without him, making many more albums. The band even continues to tour to this day, but they were never again able to create such magic as had occurred in their heyday. But in the end, these guys leave behind a handful of timeless rock hits, fused with jazz and blues rhythms and an incredible voice. let The Guess Who never go unappreciated! Rock on!