'Twas the night before Christmas, Two Thousand and Eight
I was visiting family for about a week straight;
And mom had the tree up and all decorated,
A list of chores to be done, which I thoroughly hated;
And a plan for the next day, for family affairs
And she, Dad and sister were asleep all upstairs;
And I with my iPod and new Oakland A's cap,
Had just settled down for a Jay Leno nap,
When outside the house arose quite a sound,
I sprang from my chair to have a look all around.
Away to the window I flew pretty quick,
And before I opened the door, I grabbed a big stick.
Now, there's no snow in Cali, but the moon was quite full
So I could see things at night - which was actually kinda cool,
But then, what to my wondering eyes should appear,
But some crazy-ass sled thing, and some monster-sized deer.
And then there was some dude, dressed all up in red,
A terrible disguise for a burglar, I thought in my head.
He was wearing white fur and medallions and rings
And the grill of his sleigh was all spinners and bling
He had massive black boots on, like gang-bangers do
And his hat was like something from Huggie Bear, too
And he whistled, and shouted, and he rapped as he said:
"Now, Dasher! now, Dancer! now, Prancer and Vixen!
On, Comet! on Cupid! on, Donder and Blitzen!
To the top of the porch! to the top of the wall!
Now dash away! dash away! dash away all!"
Now, I had no idea what any of that meant
But the deer seemed to get it, and so on they went
And these were no ordinary deer, I assure,
Freaks of nature that flew around fast, like a blur,
And before I even knew it, they were up on my roof
With the sled right behind them, leaving scuffs with each hoof
So, I headed inside, and toward the backyard,
When down the chimney this guy came pretty hard.
He was dressed all in fur, from his head to his foot,
And his clothes were all tarnished with ashes and soot;
With that bundle of god-knows-what flung on his back,
He looked like a drug dealer out peddling some crack.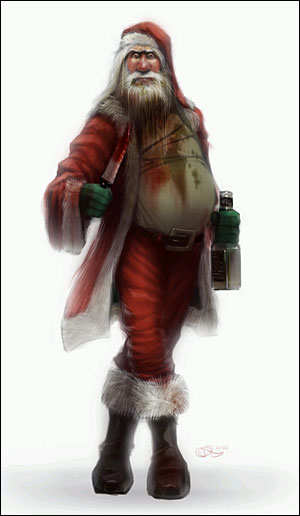 His eyes were all bloodshot, and his teeth were -- Good Lord!!
"This guy," - I thought - "is coked out of his gourd!"
His droll little mouth was all drooly and gross,
And he stumbled around for a minute, then froze;
Then he tried to say something, but it came out all garbled,
Then he almost threw up as he stammered and warbled;
He had a broad face and a big old fat belly,
He'd been drinking for hours and his breath was quite smelly.
He was chubby and plump, maybe "swollen" is the word,
And his struggle to keep his pants up was absurd;
Then a wink of his eye and a twist of his head,
Soon brought to me absolute terror and dread;
He spoke not a word, but went straight to his work,
'Started messing with stuff in my house like a jerk!
So I tackled him straight to the ground with a THUD!
And I said, "You ain't gettin' your crack money here, BUD!"
And I socked him once hard in the jaw with a crack
Then he laid me out solid, landing flat on my back
And he swung his ol' bag around fast like a hammer
But being so drunk, it began him to stammer
And he fell like a big, red, round, rosy plump mass
And he shook the whole floor with the impact of his ass
He's dazed and confused! I thought, this is my chance!
I rose up and charged at him, "Alright, fat man, let's DANCE!"
Then laying his finger aside of his nose,
And giving a nod, up the chimney he rose;
"You won't get away, you fat old conniver!"
I screamed up the chimney at the chubby sleigh-driver
But he sprang to his sleigh, to his team gave a stir,
And away they all flew like the cowards they were
But I heard him yell out, "Next stop is Atlanta!"
And that's when it hit me... "Oh, shit. That was Santa."